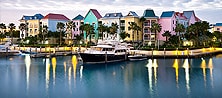 Bahamas
One of the most popular cruise destinations in the world, the Bahamas offers it all...the tropics, history, culture. The Bahamas is just 100 miles off the coast of Florida and offers the perfect climate, averaging just over 75 degrees, crystal clear turquoise waters and pearly white beaches.
Some of the most affordable cruises are to the Bahamas with plenty of itineraries, so cover your nose in suntan lotion and slide on the shades... it's time to cruise the Bahamas.
Cruise Pricing Terms and Conditions
Fares shown are per person, based on double occupancy and may not include government taxes and fees. Images shown are representative only. From prices are based upon the lowest fare and are subject to availability. Your exact price depends upon selected day of departure, departure city, ship, cabin level and class of airfare available. Rates for third and fourth passengers are not shown. All prices and dates are subject to availability. All offers and upgrades are for selected dates, sailings, and cabin categories only, are subject to availability, and are capacity controlled. All prices and dates may not be available at time of booking. All information is subject to change without notice. We reserve the right to correct errors.