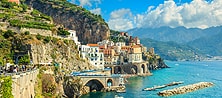 Mediterranean
Destination
Mediterranean
History. It's everywhere you turn. Down narrow, cobble-stoned streets, atop rugged mountain cliffs just off the decks of your cruise ship. Escape all the pressures of civilization without missing out on any of its pleasures.

Your days ashore are invitations to adventure, education and the pure pleasure of seeing things you've only read about before. Visit castles, museums and galleries. Explore ancient cities through winding canals. From glorious gardens and gilded theaters to famous boulevards and fabled landmarks, you're in for a picture-perfect experience.

Cruise Pricing Terms and Conditions
Fares shown are per person, based on double occupancy and may not include government taxes and fees. Images shown are representative only. From prices are based upon the lowest fare and are subject to availability. Your exact price depends upon selected day of departure, departure city, ship, cabin level and class of airfare available. Rates for third and fourth passengers are not shown. All prices and dates are subject to availability. All offers and upgrades are for selected dates, sailings, and cabin categories only, are subject to availability, and are capacity controlled. All prices and dates may not be available at time of booking. All information is subject to change without notice. We reserve the right to correct errors.